Throughout the past year, I've been slowly making changes to my online identity. My plan has always been to transfer all of my content to more permanent sources and then eventually have it all linked to ONE main website. I knew the task would be big, but I didn't realize exactly how long it would take me to do. I thought I'd spend this Vox post explaining my overall plan and hopes for the future concerning my blog at kawaii.vox.com.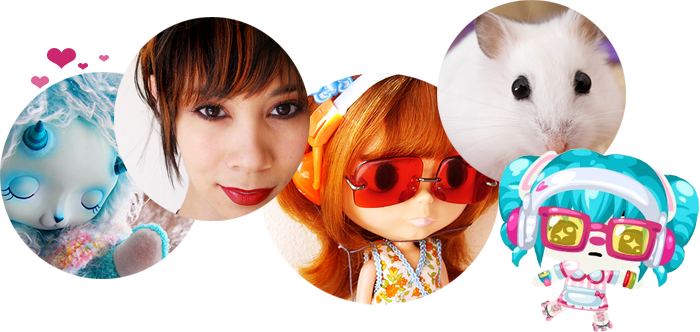 I know that I've mentioned bits and pieces of everything that's been going on with the transfer on other sites, like Facebook, Twitter, and Flickr, but I thought it would be a good idea to have a blog post where I can better explain myself in more detail. These days, an online identity is a huge deal, especially for people who hope to eventually support themselves through an online business. For me, I'm still planning to open my own shop to sell plushies and doll clothes, and other toy items... I feel like it's going to be a while until that happens though. In the meantime, I've been gathering all of my thoughts and energy and pouring them into the roots of my plan, which is to have my own website. The website will include my photography, any art/illustrations that I've made, videos from my everyday life, a contact page that will help link all the websites I belong to into one place, and of course... a blog.
The new blog is going to be a bittersweet project. For the most part, I'm ecstatic about branching out into my own realm of the internet-- completely on my own. I'll be able to experiment with different website layouts and really express my creative side any way I please. Another part of me is extremely sad that I'll be leaving Vox. I've been blogging ever since blogs started popping up on the internet. I started off at Open Diary (oh gosh, such memories!) and then played around with several smaller blogging sites like LiveWire (when it existed). Then I moved on to LiveJournal, and I eventually came across Vox. Out of all of the blogging communities I had participated in, Vox was the place that felt like home. The big point that really drew me in was Vox's sense of community and its option to pull so many websites (Flickr, Photobucket, Amazon, LiveJournal, etc.) together. For the most part, I've had a very positive experience here.
There are a few things holding me back from continuing blogging here. Much of the community (my neighborhood) that once existed no longer resides here. I feel honored that so many people still come back to my blog to check up on my life even though they don't have blogs here anymore. Thank you to everyone who still reads my blog! However, the increasing number of spam blogs is pushing me to move on. I've been keeping my comments open to the public because I love being able to meet new people through my blog, but the number of spam comments that I'm receiving now is overwhelming. A new website where there are more controls over comments will be much appreciated on my part.
For now, I'm going to put aside the minor issues, and I will continue blogging at Vox while the plans for my new website are put into motion. The project is pretty huge, considering how I plan to do all the illustrations and graphics myself. I'm learning how to use Illustrator now so I can create pretty and detailed images and designs for the layout. (I think that's the most exciting part of the process for me!) Ever since I started blogging, it's been important to me that everything within my website is created by me. I guess it's my way of expressing myself and sharing my perspective of the world... with everyone who comes across the website.
The gears for this big project have been turning for a while now. As some people already know, I've changed all my online forum identities to Happily Candied, along with other communities like Facebook. I created a new Twitter (this time, a public account) and a new Flickr account. I'm in the process of transferring many photos, my contacts, and my groups to the new Flickr. (Whew, just thinking about it is making me tired...) I've been reserving my new name on as many websites as possible, including a few that I'm not yet active at, like Tumblr.
I'll make sure to update Vox with the latest news. I always share these updates with my friends on Facebook and Twitter, so feel free to add me on there if you'd like to receive those updates in your feeds/tweets. Letting me know who you are (and that you're a reader of my blog) will definitely be helpful since I don't add back every single person I receive a request from. <3