Last Sunday (Father's Day) was one of the scariest days of my life. Ed, my kitty of two years, went missing for a day. I hope I never have to go through that type of experience-- with a kitty or a child-- ever again. That type of fear is something no one should have to go through. It's deep, and it hurts. It sits in the pit of your stomach and refuses to go away until something good and/or miraculous happens. Ed, I learned that day, was a big walking furball of miracles.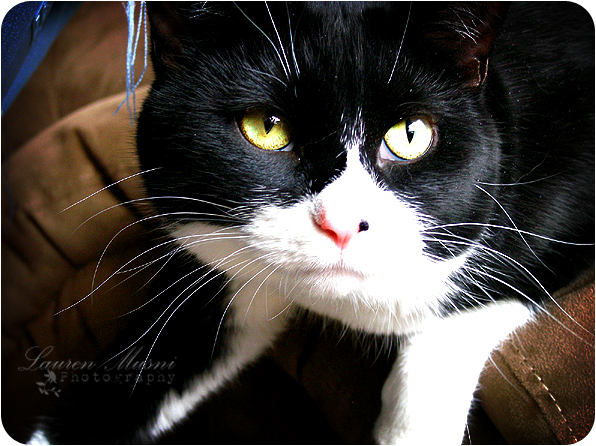 The day started off well. Shawn and I had moved in to our new apartment the day beforehand and we were pumped up with excited energy about finally getting out of Milwaukee. Since we didn't have our internet set up at the new place yet, Shawn had to stay the night at our old apartment because he was on call for work and needed instant access to the internet. Kathleen, who helped us with the move the previous day, stayed the night with me instead. We had brought over the kitties and Fru during the move and I didn't want to leave them alone in a new environment on their first night.
After unpacking more things that Sunday, Shawn showed up to make sure everything went well with the cable/internet guy. He brought along more of our stuff from the old place, and he and Kathleen started moving it in. What I didn't really take note of at the time was how they had left all the doors to the apartment (leading outside) wide open so it would be easier for them to move heavy objects into the building. After they finished, and Kathleen left, Shawn and I noticed that Ed was MIA. At first, I figured that she had just found a new hiding place between all the boxes, or in the cabinets. (I discovered Ed could open all the cabinets herself that morning.) After searching every corner of the apartment for a few minutes with absolutely no luck, I started to get that panicky feeling inside.
Ed. Was missing.
I then pointed out to Shawn, who was very calm, that all the doors in the apartment had been left open. I started to think. "What if she decided to explore and ran outside?" The idea seemed unlikely at the time since Ed is afraid of everything, but we were out of ideas. We started to search our apartment building and then the grounds around our building outside. After 25 minutes (during which the cable guy decided to show up), there was still no sign of Ed. I called Mom and asked her for ideas since she had been in this situation many times in the past. (She's taken in over 200 lost and stray cats during her life.) She helped me remain calm and made sure I followed her instructions to check all the bushes and small hiding spots, and then to talk to everyone I came across to ask them if they had seen a black and white kitty with a black dot on her nose. (-__-)
An hour passed. Still no Ed. By that time, Mom, Beth, Kathleen, AND Jeremy were on their way to help us out with the search. Shawn had to stay inside with the cable guy so I was mostly doing the searching at first. They arrived and we spread out, searching not only my whole apartment complex's neighborhood, but also the surrounding neighborhoods. We double and triple checked both the outside apartment grounds and my apartment, the whole time calling, "Eeeed! Come here, honey! Come on, come out, sweetie!" Something just wasn't sitting well with me; Ed is afraid of everything and doesn't even come out of hiding when there's a lot of commotion (like people moving stuff into the apartment) around her. There's no way she would go anywhere near our apartment door with Shawn and Kathleen moving stuff in. I kept checking my apartment periodically, because I kept thinking that she could still be inside, laughing it up while all of us looked for her. Everyone else did the same thing.
Four more hours went by. It was over 90 degrees outside with no trace of Ed, or even a cool breeze to keep us somewhat sane. By that time, Beth and I decided to take a break. We headed into my apartment and sat on the floor and talked about Ed. Something still didn't feel right about the whole situation. After about fifteen minutes, I heard a shuffle from the next room. I figured it might be Isis, or just my imagination. And then it happened.
Ed walked out of the kitchen, sat down right in front of Beth and me, and acknowledged us with a yawn.
I screamed, "ED!" and ran over to her, throwing my arms around her big (she's quite huge) neck. I picked her up and swung her around while Beth laughed and ran over to us. After everything all of us had been through-- the worry, the panic, the dehydration-- Ed had been inside, in a very secret hiding place, the entire time!
Beth and I followed her back to her hiding place a few minutes later. As it turns out, Ed had opened the cabinet door under the sink and crawled into a hole in the wall that was barely seeable to the human eye. How in the world did a cat of her size get into that hole in the wall? No idea. At that point, I didn't even care: Ed was back and she was safe. That "little" trickster got the best of ALL of us.