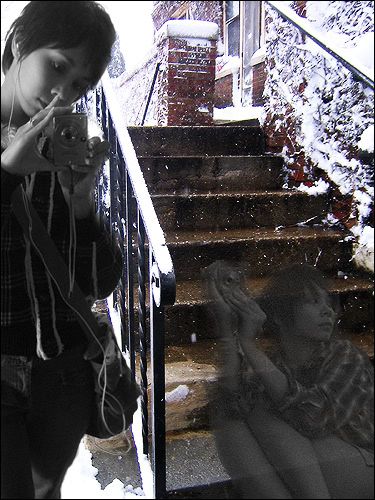 As many of you know, I like to post with not only words, but photos as well. I think a big part of me that is currently developing is my love for digital art and photography. I don't believe myself to be an expert (in any way) but I have so much fun taking photos and playing around with them, digitally. So instead of explaining this entry, I'll leave it open to interpretation to the viewer's eyes.
A little background on the mini-series would be nice though, eh? I never got a chance to talk about my Thanksgiving weekend because of the busy week that followed it. I think the mixture of papers, classes, stress about projects, and then the excitement of my getaway with Shawn and Jeremy that week... became all muddled up. As a result, I took a creative approach to my getaway and took some photos of myself while Shawn and Jeremy played video games (Halo 2) in the next room. My mind was a mixture of grittiness: relaxation, happiness, stress about upcoming papers, etc. So, even in all the excitement, I still found time to show the reality of the weekend. I took that reality and combined it with the post-week, the snowy haven that I showed in my last entry.
The photos were intended to be gritty and real. They were taken at night, with very little lighting (and absolutely no natural lighting), which is something I rarely like working with. This time, however, I felt that the artificiality of the lighting was really very... pretty.
(The lyrical line in the intro photo is from Jewel's song "Angel Standing By," one of the songs that appeared in her first album... before she destroyed herself.)